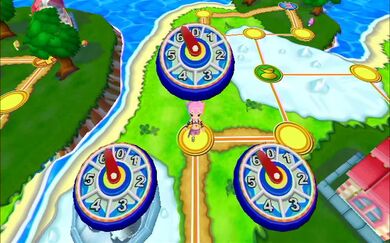 Spinners are Items in the Dokapon series that increase the number of spinners used during a turn.
Types of Special Spinners
Edit
2 Spinner
3 Spinner
4 Spinner
5 Spinner
Super Spinner – for 3–7 turns after using this, you will spin 2–5 spinners.
Matching Spinners
Edit
If you happen to spin the same number on all spinners whenever you spin 3 or more spinners, Angelo will show up and give an item. The item that he gives you is determined by which number you've matched and how many spinners you've matched it on. The following are known prizes for matching spinners.
??? = Unknown.
3 Spinner
Edit
0: ???
1: Super Spinner
2: Skeleton Key
3: Revival
4: Death Call
5: Town Conjure
6: Psychokinesis
4 Spinner
Edit
0: ???
1: Dokapon Ring
2: ???
3: Magic Medicine
4: Vacuum
5: ???
6: Flash Bomb
5 Spinner
Edit
0: ???
1: ???
2: ???
3: ???
4: Banish
5: ???
6: Rust