Spellsword

A red-female Spellsword.

Unlocked By:

Master Warrior and Magician

Stats/Level:

+2 AT, +2 MG

Mastery:

+1 AT/Level
Spellsword
is a
Job
class in
Dokapon Kingdom
obtainable after mastering
Warrior
and
Magician
. Considered one of the worst classes because the focus on AT and MG leaves you squishy and slow because DF, SP, and HP aren't affected by level-ups.
In-game description: "A well-rounded fighter, skilled with both weapons and magic."
Stats/Level: +2 AT +2 MG
Mastery: +1 AT/Level
Inventory
Edit
Level 2: Chakra – Increases your AT and MG by 50%.
Level 4: Pierce – Your next attack will ignore your enemy's defense.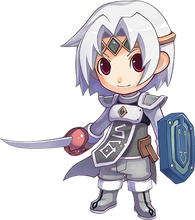 Field Skill: Barrier – Supposed 50% chance to reflect field magic back to the caster.
End of Week Bonus: Use Attack and Magic in the same battle 3 times (times 3 salary).
Related Jobs
Edit
Contributes to Hero via Ninja and Acrobat.