Ninja

A female Ninja

Unlocked By

Mastering Warrior and Thief

Stats/Level:

+2 AT, +2 SP

Mastery:

+1 SP/Level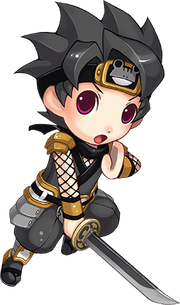 Ninja is a Job class in Dokapon Kingdom obtainable after mastering both the Warrior and Thief jobs. The best job for rushing the game to end.
In-game description: "Assassins who quietly strike from the shadows. They attack quickly."
Per Level: +2 AT +2 SP
Mastery: +1 SP/Level
Inventory
Edit
Level 2: Sneak Hit – Reduces oppenent's HP by 50%, with a chance of instantly killing them.
Level 4: Decoy – Protects you from physical and magical attacks 50% of the time.
Field Skill: Item Combo – Allows you to use 2 items per turn. Note that you can't use the second item after you use an item that causes you to land on a space, like spinners, crystals, or warps.
End of Week Bonus: Attack/Rob a store (you don't have to win in order to get the bonus. You can also just say "no" when you attack and you will get the bonus).
Related Jobs
Edit
Contributes to Hero.

Community content is available under
CC-BY-SA
unless otherwise noted.