Monk

A blue-female Monk.

Unlocked By:

Mastering Cleric

Stats/Level:

AT +1, DF +1, HP +20

Mastery:

+10 HP/Level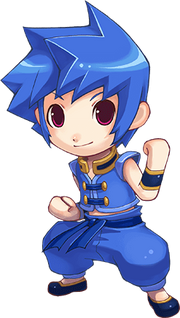 Monk is a Job in Dokapon Kingdom available to players after mastering the Cleric Job. They prefer Fist-type Weapons, such as Chi Knuckle and Aura Knuckle.
In-game description: "With their honed fighting skills, their body is a weapon."
Inventory
Edit
Job level pay raise multiplier: 1.5
Level 1: 1,200 G
Level 2: 1,800 G
Level 3: 2,700 G
Level 4: 4,050 G
Level 5: 6,075 G
Level 6: 9,113 G
Level 2: Soul Fire – Raises AT by 50% every round when you are in the Battle (resets after the end of the battle). This skill is often considered the best Skill in the game, as it is a cumulative AT boost each of time it's your battle turn.
Level 4: Afterburn – Increases all stats by 50%, but halves your HP after you beat the enemy.
Field Skill: Fire Up – Other stats rise as HP goes down.
End of Week Bonus: Attack with Fist-type Weapon 12 times.
Related Jobs
Edit
Contributes to Robo Knight.

Screenshots
Edit
Community content is available under
CC-BY-SA
unless otherwise noted.