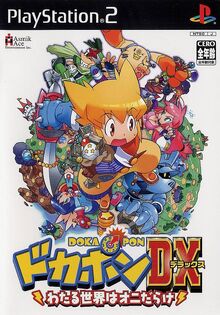 Dokapon DX: Wataru Sekai wa Oni Darake (ドカポンDX ~わたる世界はオニだらけ~) is a game in the Dokapon series. It is a 2003 action video game developed and published by Asmik Ace Entertainment exclusively in Japan for the Nintendo GameCube on April 10, 2003, and later for the PlayStation 2 on July 8, 2004. Sting, the creators of Dokapon Kingdom, helped port the PlayStation 2 version.
Story
[
]
Gameplay
[
]
Characters
[
]
Playable characters
[
]
Tap

Luchil

Brikin

Gamamaru

Razuly

Wiwi
Differences from Dokapon Kingdom

[

]
Continents are in separate maps. They are also larger.
Wallace is the main antagonist.
Bosses don't auto-counter.
There are characters instead of jobs.
A few Spaces were changed. White Loot Spaces may now recover you, Damage Spaces no longer put you into a Battle, and a new loot space, the pink loot space, was added.
There are 3 endings to finish the story, one being the normal ending, the space ending (True Ending), and the dark ending (Bad Ending).
Towns are now rest centers, and they can give you special items also.
A new robbing system was implemented, called red wire, blue wire.
Each weapon now has a skill. Skills can now be blocked.
New Special Event NPCs have arrived. A few are remade, and some return.
D-Pass globes and treasure are added to replace Special Equipment.
You no longer save towns; instead you get Eggs by defeating Big Monsters. Watch out for that Wallace egg!
Gallery
[
]
Screenshots
[
]
Box artwork
[
]
External links
[
]