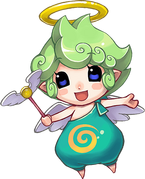 Angelo is the character that shows up on the main screen, and walks players through the game starting process. In Dokapon the World and Dokapon Journey, Angelo is represented as a female humanoid. In Dokapon Kingdom, his favorite game mode is Battle Royale.
Appearances
Edit
Angelo first appears before the game starts, when the player chooses their styles.
When a player is spinning three or more Spinners and they all land on the same number, Angelo will come down and give the player an item.
Angelo can also give a player some equipment if a player has none after coming back to life. This could happen if a Darkling deleted all of that player's equipment. He will give a Weapon and/or a Shield.
In Dokapon Kingdom, when a player dies, Angelo may come down and offer to bring you back to life for a large fee. He may also occasionally appear after a player has been dead for 3 days.
Angelo has been found as a Special Event NPC and will give a good random item for a lot of money corresponding to your level.